All factors now push steel prices up. That is the increased demand and the price of raw materials for steel production increased, including iron ore.
On the Shanghai floor, the price of rebar – used in construction – at the end of the session 6/5 increased by 4.7% to a new high of 5,672 CNY/ton; hot rolled coil – used in the production of vehicles and household appliances – increased by 4% and also reached a record of CNY 5,957/ton; while stainless steel increased by 4.3% compared to the previous session (April 30).
Iron ore prices also rose this session after China suspended "indefinitely" all activities within the framework of the China-Australia Strategic Economic Dialogue, amid deteriorating relations between Beijing and Canberra. Australia is the world's largest supplier of iron ore and accounts for about two-thirds of the total demand for raw materials imported into China.
Iron ore on the Dalian bourse this session increased 6.8% to 1,184 CNY ($182.77)/ton. On the Singapore floor, iron ore for June futures also increased by 4.9% to $196.1 per ton.
Coking coal prices on Dalian bourse rose 8% in the same session, while coking coal rose 5.6% compared to the previous session.
China, the world's top steel producer, has imposed a series of trade sanctions on Australian exports, from alcohol to coal. Analysts say China's move shows it is working to reduce its dependence on Australian iron ore. To date, Australian iron ore imports into China have fallen sharply. However, "China is unlikely to ban imports of Australian products on which it depends so much because that would have an impact on the domestic economy," said Wood Mackenzie senior economist Yanting Zhou. "The government is more likely to increase the administrative costs of importing goods from Australia if it wants to act," he said.
The demand for steel in the Chinese market is growing very strongly, reflected in the inventory of key steel products (rebar, coil and plate) which has decreased by 5% in the past week compared to the previous week, while Consumption surged 5.3%, data from consulting firm Mysteel showed.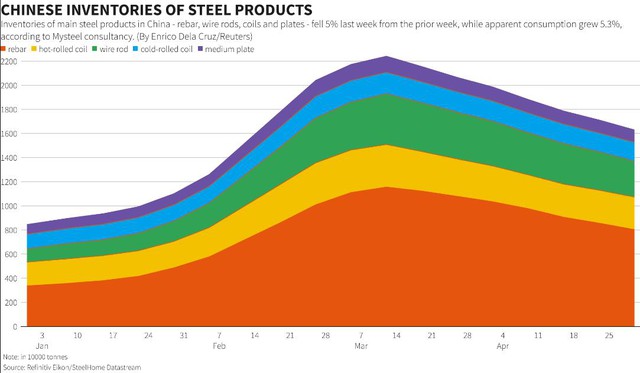 China's steel product inventories are rapidly decreasing
Another move by China also shows that the country's steel demand is very strong. That is a new policy that took effect from May 1, under which import tax on pig iron, steel billet and scrap steel is adjusted to zero; at the same time abolishing the policy of refunding steel export tax, with the goal of reducing import costs, increasing the import of steel resources and supporting the reduction of domestic crude steel production to reduce emissions.
Before, China, which produces more than half of global steel production, pledged to reduce steel output this year as part of a plan to reduce carbon emissions from one of the most polluted industries.
In addition to tax and fee measures, administrative measures are also applied, such as the Tangshan government (in Hebei province, China) requiring 23 local manufacturers to cut steel output in the year. 2021 to reduce carbon emissions by 30-50%.
China's Ministry of Industry recently announced that it will tighten controls on steel production in key air-polluted areas with new regulations that will take effect from June 1. Steel production facilities with low technology, backward as well as low iron alloy smelting capacity will not be allowed to resume operations from June 1.
Analysis of the impact of China's new policies on the world iron and steel market shows that the above change in China's policy will have an impact on global steel production and import and export because this country stands at the top of the list. world leader in steel production (nearly 1 billion tons of crude steel in 2019 out of total world production of 1.9 billion tons per year), steel exports (64 million tons of steel of all kinds in 2019 out of total exports of 438 million tons of steel in 2019). world) and steel imports (1.1 billion tons of iron ore in 2019 out of total world imports of 1.6 billion tons).
The Chinese Government's encouragement of domestic manufacturers to use more imported sources of pig iron, steel billet and scrap to produce steel by electric arc furnace technology will dramatically increase import demand for raw materials. data, pushing their prices – already record highs – will rise even further.
On the contrary, the import of these iron ore substitutes for steel production will reduce China's demand for imported iron ore and coking coal, thereby reducing pressure on iron ore and lignite prices. coking/coking coal.
For Vietnam, recent policy changes related to China's steel industry are expected to benefit steel manufacturers using Vietnam's blast furnace technology (such as TISCO, Minerals and Minerals Corporation). Metallurgical Viet Trung (VTM), Hoa Phat, Formosa Ha Tinh…) thanks to the reduction in the cost of imported materials such as iron ore and coke/coke. However, for steel manufacturers using electric arc furnace technology (Vietnam Italy Steel, Southern Steel …), the change in China's policy will affect the increase in input material prices, especially scrap steel.
Information resource: cafef.vn